Awards
Sorry, about the wait for these. Life has be hectic; my pregnant sister who is closing in on her due date has been having some pre-term labor and it's throwing everything into chaos.
I wanted to make these awards nice and pretty so I hope y'all like them. :3
First place goes to
Metroid-Tamer
StargazerSammie
is a very close second place
and finally in third place we have
Ashuri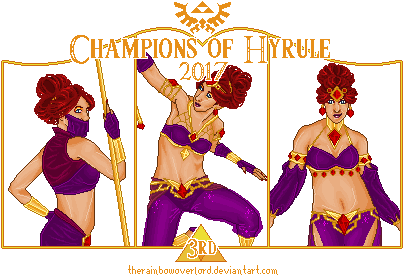 the rest of the awards are as follows...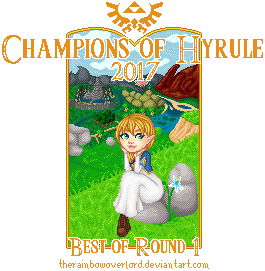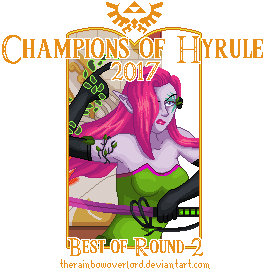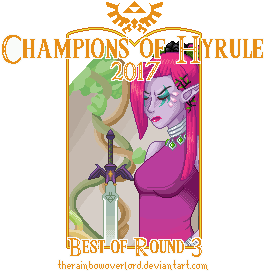 I want to thank my three lovely entrants for their wonderful entries. At the very least you made my pageant feel worth it. QwQ
Winners can send me a note about your prizes when you find the time. :3
News
The pageant is now officially closed and awards are up~
Thanks for taking part in the Champions of Hyrule's first run!

Welcome to the first Champions of Hyrule pageant!
This is the very first (as far as I know) pixel doll pageant for Legend of Zelda original characters.
I've been wanting to host something like this for a while and now the time has finally come!
The rules are pretty much the same for my other pageants; you have a month's time to make three dolls of the following categories. You are also free to use any of the Zelda games for your inspiration (even if Gandon/Ganondorf is not the villain of the game that was just an example). You can also make up your own version of the story and use that! Just give us an explanation of story in the text descriptions of all three rounds.
Round 1: Introduction
Introduce us to your character by showing us who they before they start their journey.
Round 2: Picking a Side
The endless war between light and dark has started once again. Where does your characters allegiance lie? Are they fighting with the hero and the princess or are they in liege with the dark king and his minions? Show us your character ready for a fight in their respective style (mage, rouge, warrior, etc).
Round 3: After the Battle
The battle is over where does your character stand? If they joined with the light were they victorious and attend the following celebration? Or did they fall and the your character barely survive. If they joined the dark did the dark king overtake Hyrule with the help of your character? Or if the dark king fell were they punished for their crimes against the kingdom?
Example:

Sheltered and isolated, Zaila the crown princess of the Gerudo grew up with the loss of her mother and brother hanging over her and her father's hatred of the rest of Hyrule. Lonely and unsure of her place in the world Zaila never knew what to make of the gift she inherited from her mother.
Following an encounter with the hero and his companions in the Desert Ruins; Zaila finally figured out her destiny. In the dead of night she fled the desert she grew up in to find resistance and find her place in the fight against shadow with her bow of light in hand.
Alongside Princess Zelda and the hero, Zaila and the rest of the resistance stormed the stronghold her father had made in the ruins of Hyrule Castle and made it possible for the Triforce of Power to be claimed by the light and the dark king to be defeated. Several months after the fall of shadow and Hyrule slowing returning to what it once was; Zaila found herself in the garden once favored by her late mother finally at peace with herself.
Rules:
- Character must be an original fan character of your own creation; you can however use ocs related to canon such as next-gen or oc/canon ocs.
- Each doll must have different outfits and the 2nd round must include a weapon if your character uses one!
- You must have all three dolls done to qualify for judging.
- No franken dolling!
- All entries must be new dolls!
- Bases must be the same or at least similar.
- Bases must at least be 150px tall!
- Backgrounds are fine but no animation.
What I'm judging on:
- Creativity
- Use of the Legend of Zelda universe.
- Character Consistency
- Detail
- Overall Style
Deadline: September 4th September 11thAwards:
1st Place
9 small custom outfits or your choice of pixel icon and small pixel doll.
2nd Place
6 small custom outfits or your choice of little pixel doll.
3rd Place
3 small custom outfits or your choice of tiny pixel doll.
Bri's Choice
Public Choice
Best of Round 1
Best of Round 2
Best of Round 3
Entries:

If you have any questions or concerns please feel free to ask them here.